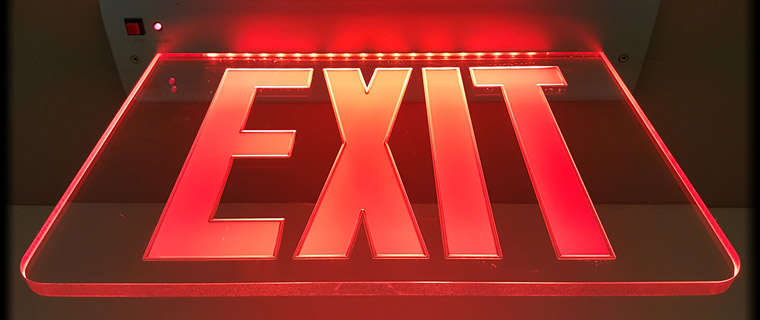 Emergency Lighting Systems
Most of us take an emergency lighting system for granted, we shouldn't. A well-designed emergency lighting system can make the difference between life and death for people trapped in a darkened space, particularly under a stressful situation.
Exit and emergency lighting systems are designed to provide illumination during power outages and emergency situations. Exit signs will illuminate the best path to follow in order to safely exit a building during a power outage or fire emergency.
Your emergency lighting system is made up of a rechargeable battery, a battery charger, one or more light bulbs, and a relay device to turn on the bulbs automatically when the building power fails. Batteries are sized to provide enough power in the event of an emergency lasting at least 1-1/2 hours.
Various governmental agencies (NFPA [National Fire Protection Association], OSHA [Occupational Safety and Health Administration], AHJ[Authority Having Jurisdiction]) and your local fire marshal have established a comprehensive list of standards that need to be followed in order to have an emergency lighting system that complies with various codes.
In addition to installing an emergency lighting system, you must keep it in full working order at all times. ProActive Fire Safety will test, inspect, repair and or replace your equipment to ensure that your batteries, chargers, and bulbs meet the required standards, are in working condition and in compliance with the State and or local AHJ(Authority Having Jurisdiction).
In an event of a power outage, you'll have the peace of mind of knowing that your emergency lighting systems will keep your customers and employees safe by providing them with a path to safety.
Call ProActive Fire Safety: 863-999-3279
Test integrity of lights and batteries through the test button for 30 seconds Check for physical damage, align the beam and tighten if necessary. Check AC and charge lamps as applicable.
Full Simulation 90-minute test. Disconnect the AC power supply to each unit. Check battery and lens for corrosion or damage. Clean unit and lens as required and adjust the beam for proper placement. Check the charging system voltage, check battery output voltage, and check the line voltage.
After inspection or repair, ProActive Fire Safety certifies that unit with an inspection sticker and a Site Survey showing your emergency lighting units have been inspected and your business and or facility is in compliance.
ProActive Fire Safety carries every type of Emergency Exit Lights and signage for your safety needs. We have Battery back-up, Dual Circuit & A.C. only LED Exit Signs. We also carry a wide variety of Exit & Emergency Exit Lights Combo type lighting and some with motion detectors.
OSHA – Occupational Safety and Health Administration requires that every building have at least 2 exit routes to be deemed a "safe" building. The exit routes are required to be clearly marked with OSHA-approved Emergency Exit Lights and evacuation signs so that people occupying the building are guided to exits and escape routes, and so firefighters can easily locate emergency equipment.
ProActive Fire Safety is here to answer any questions about Emergency Exit Lights and Exit Signage you might have.
Call us today at (863)-999-3279 with any question about Emergency Exit Lights & signs.
Call ProActive Fire Safety: 863-999-3279