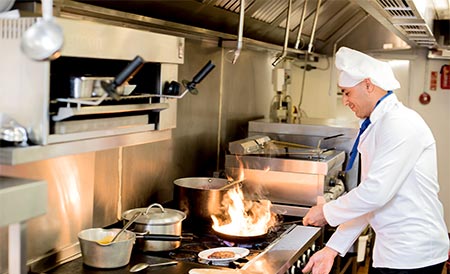 Kitchen Suppression Systems
Businesses and commercial kitchens today use hot cooking oils, various types of fats, grease and other flammable substances in their kitchens; this paired with the use of high-energy cooking appliances, lack of proper maintenance, inspections and cleaning has the ability to turn any kitchen operation into a dangerous environment and, most importantly, a high fire hazard. ProActive Fire Safety is here to assist and help your commercial kitchen stay in compliance, operational and safe.
National Fire Protection Association (NFPA 96) provides preventive and operative fire safety requirements intended to reduce the potential fire hazard of both public and private commercial cooking operations.
All kitchen hood suppression systems shall have routine inspections and be serviced
by a licensed fire protection company (like ProActive Fire Safety) this includes but not limited to:
Semi-annual inspection, test, and certification
Repair, recharge, and cylinder hydrostatic test
Install new wet chemical systems

24-hour emergency service

Testing the manual pull station
Replacing the temperature activated links
Verifying gauge on pressurized tanks
Removing and clean nozzles
Documenting and reporting deficiencies to customer
Visually inspect conduit and location of appliance, duct,
and plenum nozzles
Inspect link line and position of detectors
Inspect the automatic actuation of the fire system by cutting a terminal test link
Test the remote pull station
Verify electric and gas shut offs when the system is activated
Replace fusible links and center link housings
Verify the gauge on pressurized tanks is at the proper level
Inspect the internal non-pressurized tanks for corrosion
Examine cylinders to record and verify the hydro test date
Examine the regulator to record and verify the test dates
Replace system cartridges when required by manufacturer (this is done at an

additional charge)
Remove and clean nozzles to ensure they are not clogged and replace nozzle caps
Test all electrical interlocks (electric shut-offs and fan interlock requirements vary

by local AHJs [

Authority Having Jurisdiction]

)
Inspect the piping and copper tubing for tightness
Record any obvious deficiencies discovered during the inspectio
Call ProActive Fire Safety: 863-999-3279